An in-depth look at how we evaluate your business and where and how we can implement changes. 
A productive and fulfilling work environment is based on six different areas that come together to make up the whole. Organize to Excel helps businesses in each area to achieve a productive and fulfilling work environment.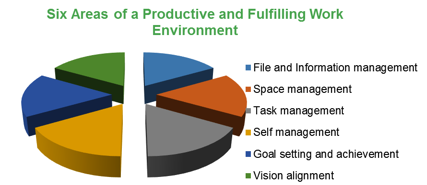 File and Information management
Find the files and information you need when you need it and have a clear work space so you can concentrate on the task at hand.
Services offered:
System wide analysis of filing system
Set up or update filing system

Ensures the right people have access to the right files and information

Purge/archive old files
Clear real and virtual desktops
File outstanding paperwork
Space management
Have on hand and find supplies when you need them. Have the furniture and accessories required to promote a smooth work flow.
Services offered:
System wide analysis of work flow
Specific suggestions for accessories and organizing tools to promote work flow
Office supply inventory organization
Task management
Do the most important things, ensure nothing falls through the cracks and tasks are completed on time.
Services offered:                                                                 
Discovery process to find the best task management system for the organization or individual
Set up or update task management system
Training on using task management system
Habit formation support
Self-management
Be the most productive you can be, be on top of your game, feel satisfied, fit and healthy.
Services offered:
Coaching on structuring the use of your time
Coaching on maximizing your productivity
Coaching on supportive habit formation
Coaching for managing your energy throughout the day to ensure maximum productivity
Goal setting and achievement
Measure your success. Set goals, monitor progress and define success.
Services offered:
Goal identification
Milestone identification
Next step/action identification
Vision Alignment                                
Fulfill your life's purpose. Align your business goals with your life's purpose. Ensure your business is going in the right direction. "Start with the end in mind" (Stephen Covey)
Services offered:
Aligning your business with your life's goals
Strategic planning for your business
Identifying your core mission
Organize to Excel incorporates lean principles of increasing flow and reducing waste in your business and simultaneously increasing value for your customer. We support you to reach zero waste goals.

Get started today
If you want to increase the value you provide to your customers and clients, call Organize to Excel today on 310-806-2580.